SON OF BYBLOS ★★★ Belvoir Downstairs Theatre, May 6
A silent action can be worth a thousand words. The most complete set piece in this new play comes when Claire, a lesbian eager to marry a stray man, takes off her street clothes and, aided by Carol, her aunt, puts on a stunning ivory wedding dress. Both women are moved in different ways and for different reasons, but their emotions converge in a simple infatuation with the beauty of the dress. Not a word is exchanged.
There's a lesson here because playwright James Elazzi has a tendency to put lines into his characters' mouths that might have gone unsaid, whether to maximize the truth of the dialogue or to heighten the narrative by working a little more the public.
This tendency to overwhelm is exacerbated by the fact that the actors are far too loud when their characters are angry – which they often are – in Belvoir's tiny Downstairs Theatre. Playing, after all, is a lot like playing a musical instrument, and performances should be tailored to the size and acoustics of the venue. Director Anna Jahjah (for Brave New Word Theater Company) nailed the wedding dress scene perfectly, but she should have persuaded her actors to find comparable (or greater) intensity without resorting to such ferocious volume. It's like the difference between making music in a stadium and in a bar.
Son of Byblos continues Elazzi's exploration of the irregular interface between Lebanese and Australian culture with which he began Lady Tabouli and continued with Queen Fatima. As with the first, this story centers on the difficulties of coming out as gay in a conservative Australian-Lebanese household. But, unlike previous plays, Elazzi is less concerned with making us laugh than with making us feel. He crafted a script and characters to draw us in, and Jahjah assembled a cast capable of finishing the job. What's missing is a consistent understanding that more restraint might actually make the audience feel more.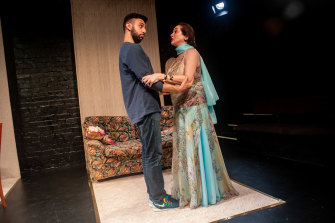 Mansoor Noor plays Adam, the apple of his father's eye and the darling of his mother's heart – except they don't know that his main hobby is having casual sex in public restrooms. They also don't understand why he wants to design websites instead of installing cabinets or working in an office. Adam's father (Simon Elrahi) has a simple philosophy that a man should be able to survive in life; be independent. He helps his son get "better" jobs than stacking fruit and doesn't understand why these efforts aren't appreciated. Elrahi is particularly compelling as the character with the steepest learning curve.
Loading
Adam's mother (Deborah Galanos) still dares to dream beyond the drudgery of feeding her men; dares to define a corner of his life of his own by taking tango lessons. Claire (Kate Bookallil), meanwhile, was always Adam's confidante, until she left for Lebanon and came home engaged to a seemingly random man, abruptly ending a romantic lesbian relationship. . And Angela (Violette Ayad), a dental student whose only flight from her family home is through marriage, is a rekindled flame in Adam's flirtation with bisexuality.