Your decision on whether you need the second volume of the 1950s trilogy of recorded collaborations between Ella Fitzgerald and Louis Armstrong may come down to how big of a fan you are of the Great American Songbook and vocal jazz in general. The musical relationship between Louis and Ella was so special, and they had such a strong bond, that for some of us, October 1957 Ella and Louis again — their sequel to the acclaimed October 1956 Ella and Louis album – simply whets the palate for even greater things to come.
This new 180g 2LP reissue of Ella and Louis again from Verve/UMe and Acoustic Sounds (which is made/pressed at QRP and has an MSRP of $49.99) may surprise some of you. Musically, it's an essential link in the trilogy, effectively continuing where the duo left off on their first successful collaboration exactly a year earlier, and ultimately continuing through to their magnificent masterpiece of April 1959. Porgy and Bess (which we'll no doubt be back to when it eventually gets re-released – hopefully!). If you missed my review on Ella and Louis in mid-August, please go here to read it accordingly, as it provides very useful background information.
As far as today's vinyl collection market is concerned, this new reissue of Ella and Louis again is a must-have solution for audiophile jazz fans around the world. If you've ever gone looking for original pressings of this record, you know it's hard to find in any condition. Most of the time I've seen this album it was in pretty bad shape and the price was a little high all things considered – things like multiple seam splits and other cover wear, plus vinyl which was much appreciated. Ella and Louis again was undoubtedly a popular record that its owners probably played on auto-repeat, probably on their brand new automatic stacking record changers of the time. So most of the OG copies you see show a lot of wear, and/or even a fair amount of abuse from laps at maybe one too many parties.
In all my years of collecting (and avidly since the mid-70s when I was in college), I've only owned one copy of this album. once, and it was admittedly in pretty poor condition – well, it was purged at some point, probably when I reduced my collection on my way back to San Francisco from the suburbs. I had yet to find a suitable replacement – well, until now, of course.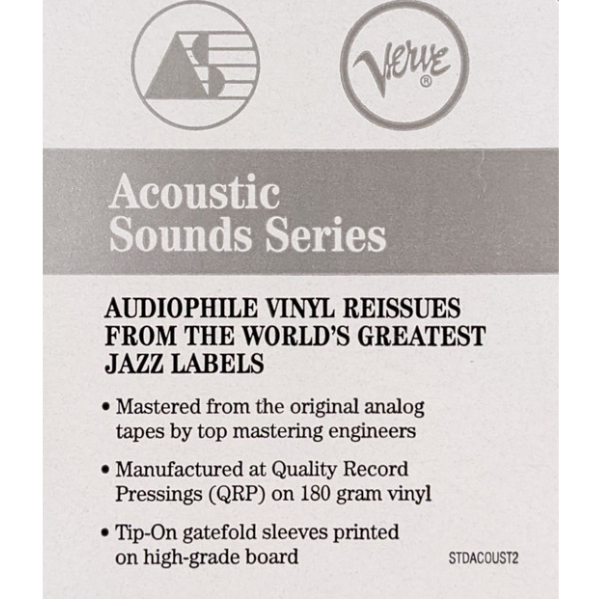 At this point some of you may be familiar with my process to help substantiate the need for the existence of a good quality reissue. Scrolling through Discogs for a handy snapshot of a key segment of the record-collecting universe, at the time of this publication there were only eight 1957 originals. Ella and Louis again albums for sale. Pricing started at $18 for a one-disc (!) missing copy of this 2-LP set, up to $100 for the single near-mint copy listed.
Adding to the confusion, there are many gray market editions in stores containing questionable and/or inaccurate artwork, often offering even more questionable sounds due to questionable sources for making the recordings. Indeed, finding clean original American pressings of Ella and Louis again is a surprisingly elusive task!
All that record-collecting chatter would be moot if the music was less than great – but, indeed, the performances on Ella and Louis again are sublime. An interesting difference from this 1956 album's predecessor is that it's not entirely duet. Of the 19 cuts, only 12 feature the duo together.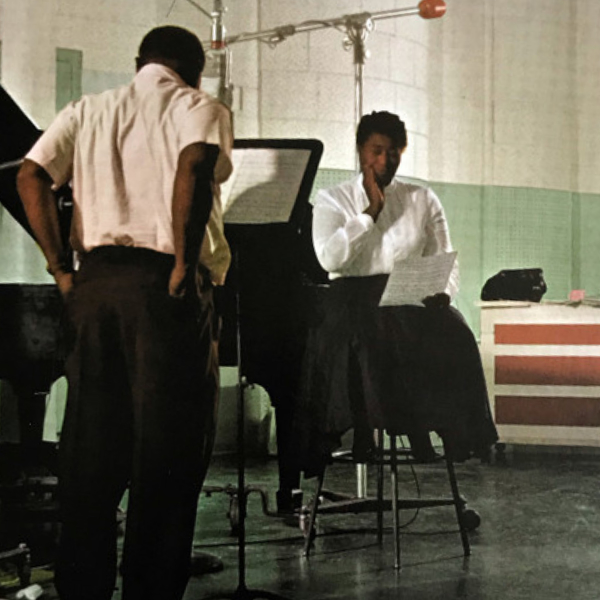 I have no problem with that, mind you. In many ways, it's a great thing as a listening experience, as it gives you time to more fully appreciate each artist individually. and collectively. It's a bit like munching on a tasty trail mix while hiking – sure, you can slurp handfuls, but sometimes it's more satisfying to just enjoy an almond, raisin or M&M that could be mixed together. the individual showcase pieces here make Ella and Louis' moments together — like on the dashing "Stompin' At The Savoy" — all the sweeter.
On Ella and Louis again, once again our featured stars are backed by Oscar Peterson and his trio, this time featuring Ray Brown on bass, Herb Ellis on guitar and Louis Bellson on drums. To say that they provide effective support to incumbent artists is an understatement. The band is so finely tuned to each other and how to support the singers that they provide perfect support. For example, listen to Herb Ellis' short chords on "These Foolish Things," which add delightful musical texture without ever interfering with Ella's lead vocals.
Some of my favorites on Ella and Louis again include infectious duets on two George and Ira Gershwin classics, "Let's Call The Whole Thing Off" and "Love Is Here To Stay." Meanwhile, "Willow Weep For Me" is soft blues that gives Satchmo solo space for his expert trumpet solo.
It should be noted that Armstrong plays his horn away less on this album than on the previous version, apparently intentionally to emphasize the duo's vocals. That said, the band seem to rise to the occasion and swing wildly – ​​to borrow an expression from Duke Ellington – when Pops' solo moment is ripe. Just listen to the opening swagger on the album's final track, "Learnin' The Blues" – Satchmo's horn just goes up from the start, and the band are right there with it.
The sound quality on Ella and Louis again is generally excellent. I don't know if I'm projecting here, but it almost sounds like this recording might be a bit clearer than its predecessor – and that makes sense, given the inevitable improvements in recording technology and lessons learned from previous sessions, which were performed at Capitol Records' new studios in Hollywood.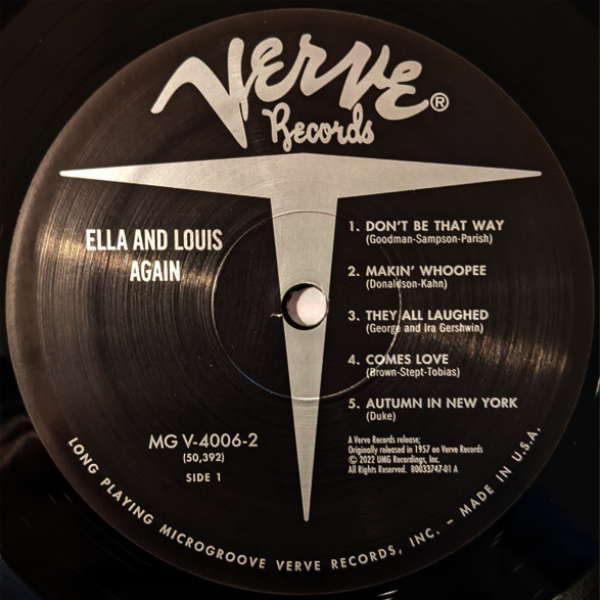 Both Ella and Louis again The LPs from the set I review here are thick, dark, quiet and, most importantly (for me, at least), nicely centered. Ryan K. Smith's mastery of the record is once again excellent, delivering a clean and punchy vinyl playback experience while remaining true to the era of release.
In keeping with the tradition of other Verve/Acoustic Sounds reissues, the cover art is exceptional and arguably better than the original releases. The thick cardboard and full-color artwork is beautifully laminated (more like the original Impulse Records editions, frankly), so the presentation is exemplary. Each disc is housed in an interior audiophile-grade plastic sleeve. The record labels are period accurate as they even made sure that the fonts and layout of the text on the label are correct. Only the edition designations are different from the copies I viewed online.
Honestly, I could go through every track and tell you how great each is — because they are! But, at this point, I think you get the idea that Ella and Louis again is a exceptional reissue of an exceptional album. It's a must-have release if you're a fan of either artist, or just a fan of great vocal jazz. Simpatico performances by Ella Fitzgerald and Louis Armstrong to have to be heard to be fully appreciated. But don't just take it from me – get a copy of the new 180g 2LP Ella and Louis again put in your hands, and go listen for yourself!
(Mark Smotroff is an avid vinyl collector who has also worked in marketing communications for decades. He has reviewed music for AudiophileReview.com, among others, and you can see more of his impressive resume at LinkedIn.)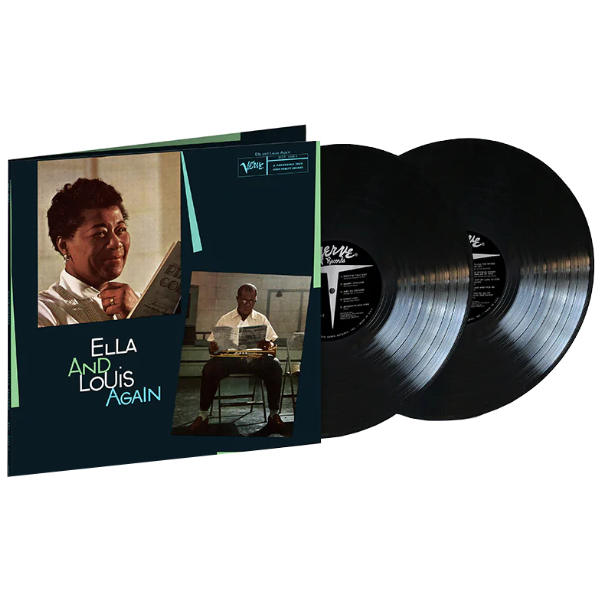 ELLA FITZGERALD AND LOUIS ARMSTRONG

AGAIN ELLA AND LOUIS

180 2LP (Verve/UMe/Acoustic Sounds)
In front of

1. Don't be like that

2. Do a whoopee

3. They all laughed

4. Comes Love

5. Autumn in New York
B-side

1. Let's do it (Let's fall in love)

2. Stompin' At The Savoy

3. I will not dance

4. Damn, baby, am I not nice to you?
C-side

1. Let's stop everything

2. Those stupid things (remind me of you)

3. Got my love to keep me warm

4. Willow cries for me

5. I put all my eggs in one basket
D-side

1. A beautiful romance

2. Bad wind

3. Love is here to stay

4. I get kicked from you

5. Learn the blues