On Monday morning, a plane flew over Hollywood Boulevard, trailing a banner wishing Nipsey Hussle a happy birthday.
Below, huge crowds of fans, artists and family filled the legendary Los Angeles street to celebrate the late rapper receiving a star on the Hollywood Walk of Fame on what would have been his 37th birthday.
Tributes to Hussle, who died in 2019, have been scattered on Hollywood Boulevard, from custom Lakers blue jerseys emblazoned with the number 60 and "Hussle" to larger-than-life paintings available for sale. Even the refreshments reflected Hussle's brand and motto, as one man pushed his way through the crowd selling 'marathon waters' – aka your standard bottles of Aquafina.
Many big names came out for Hussle's ceremony, including rappers Roddy Ricch, Saweetie and YG, as well as Los Angeles radio legend Big Boy (who has his own star on the Walk of Fame).
"Nip would have been honored by this moment," his longtime partner Lauren London said at the ceremony. "I think he would like everyone to remember that you can't achieve what's possible unless you commit to moving forward. That doesn't mean forgetting where you came from, but it does require recognize the reality you were born into and the power you have to change that reality for the better.
"So every time you are in the City of Angels and you see this star, I hope it encourages you to break away from whatever is holding you back and run your marathon until God says it's over," London added. .
Towards the end of the ceremony, council member Marqueece Harris-Dawson proclaimed August 15 Nipsey Hussle Day in Los Angeles. Harris-Dawson delivered the framed proclamation to Hussle's grandmother, Margaret Boutte, who posed with Hussle's sister, Samantha Smith, and father, Dawit Asghedom.
"Nipsey was the love of my life," Boutte said. "Always very respectful. I miss him, but I look at his picture and remember all the wonderful times we had together. I thank my daughter for blessing me with Nipsey.
The Hollywood Chamber of Commerce, which hosts Walk of Fame ceremonies, originally announced Monday's event would take place at 11:30 a.m., but the time was quietly changed to 10 a.m. to prevent crowds from becoming too large. . James Davis was one of the people who didn't get the update, arriving after all five speakers left the stage.
Davis, who said he came to the event to honor Hussle's birthday, still stayed to witness the celebratory scene. About six months ago, he bought a T-shirt featuring a painting of Hussle's face but hadn't worn it until Monday, thinking it was finally the perfect occasion.
"I was trying to figure out the right reason to wear it, and here we are," he said. "It's day one. I don't know if I'll wear it again, but I finally blew the tag on this one.
Hussle's star was unveiled just outside Amoeba Music's new home at 6212 Hollywood Blvd. Much of the crowd lingered long after the star's reveal, craning their necks over a metal fence to see her or snapping photos with the more diehard supporters, who pitched in four for the ceremony.
Chris Campbell, who came to the event from his house just around the corner, thought back to when he met Hussle in the same area when he was still trying to make a name for himself.
"I met him in 2005, in Hollywood and in La Brea — it was an internet cafe then — and he even impressed me there," Campbell said. "He seemed focused. I followed his career and always knew he was going to be great, I'm just sad he never lived long enough to fully accomplish his career.
Others have traveled far to get to Hussle's big day. MassV, artist and producer, makes the way from San Diego. It wasn't his first Walk of Fame ceremony — he'd been there once before when 50 Cent got his star — but all the love in the air for Hussle made this one special.
"It's amazing, you really feel the energy, the spirit. You feel what he left here and he left an impact on people," he said. "You really don't know what impact you leave until you're gone, and when something like that happens you can really feel the love."
The Walk of Fame honor is the latest posthumous achievement for Hussle, who was fatally shot in 2019. (His killer, Eric Holder Jr., was convicted in July and will be sentenced Sept. 15.) Last week , the new Hyde Park Station on the K line in South Los Angeles was dedicated in his honor. The station sits at the intersection of Crenshaw and Slauson, where the rapper first sold his early mixtapes and t-shirts, then set up the Marathon Clothing store.
"After [Nipsey] seized the vision and he understood what the train would mean for this community and his neighborhood and businesses like his, he was very involved in making sure this train worked on behalf of our people and helped us to expressing and living our possibilities and our hopes and our dreams," Harris-Dawson said during the station ceremony last week.
The Crenshaw and Slauson intersection was renamed Ermias "Nipsey Hussle" Asghedom Square in 2019. Since then, its flagship store, Marathon Clothing, has announcement plans a second location on Melrose Avenue. The Marathon Collective, the brand's first cannabis dispensary, open in June.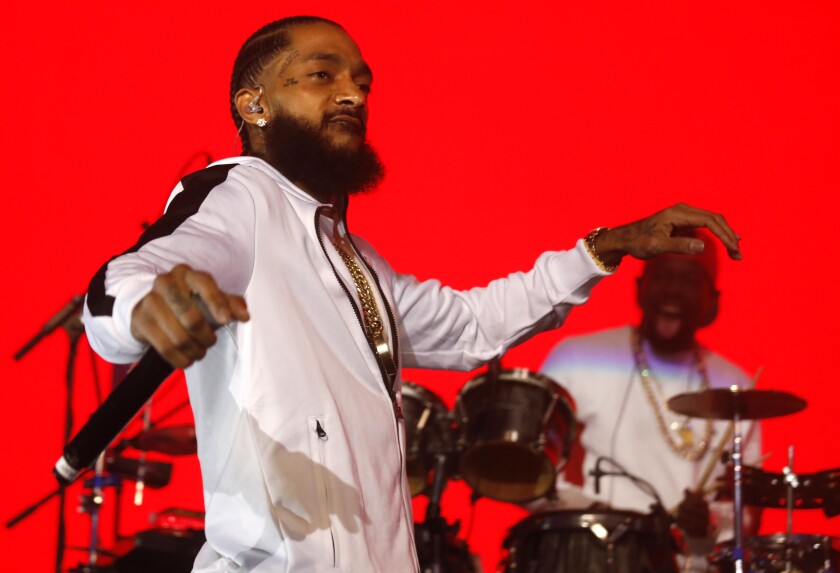 Born August 15, 1985, Hussle has become one of LA's most important rappers – not only because of the popularity of his music, but also because he hatched a plan to break out of South Los Angeles with his integrity and independence intact. . From an early age, it was clear that he didn't just want to rap, he also wanted to be in control of everything associated with the process – building his first the computer at age 12, later learning to record on it.
Hussle founded his All Money In label in 2010 after an unsatisfying stint at Epic Records. Assembling a roster that included J. Stone, Pacman da Gunman, and Cobby Supreme, Hussle set out to take over LA without major label backing, creating innovative ways to sell his music (he sold 1,000 mixtapes for $100 each in less than 24 hours during the Proud 2 Pay campaign for his Crenshaw mixtape).
Techniec, a rapper who made up a third of the LBC Crew in the mid to late 1990s, came down from Long Beach to celebrate Hussle's latest win. For him, the Walk of Fame ceremony was bigger than the people who were there — it would motivate others to see how far Hussle had come and how they could follow his path.
"He really set a precedent for inner city kids to believe they could take it to another level," Techniec said. "A man of respect, it's normal that he got his star here. I believe it's the most deserved; his life must have an impact on future generations. They must check and see what it is .